In this article, we will show you everything you will need to onboard and setup on the Grip platform. This should give you a smooth onboarding experience and cover the basic setup steps.
Here are the topics we will cover:
The login process
1. Grip login
You will receive a welcome email with your login credentials and details to access the event platform. If you did not receive this email, please contact your event organiser or reach out to us at support@grip.events
Once you have entered your email address and BadgeID, you will be prompted to create your own password for future logins.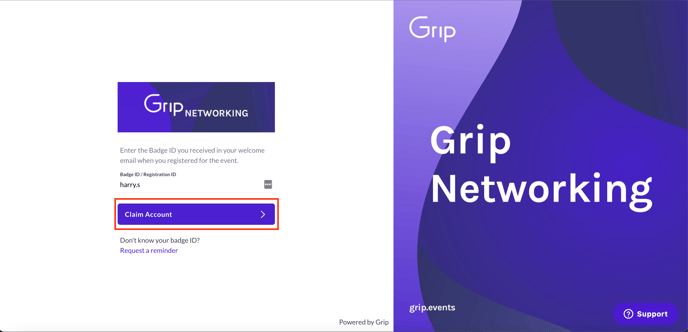 2. Answer onboarding questions
You will be asked to complete some initial onboarding questions. These may include:
Profile questions, which we recommend you complete as thoroughly as possible to help our AI to generate the most valuable matches.
Contact detail visibility, where you can decide if you would like other users to view your contact details.
Click here to view our 'onboarding steps' guide for more information.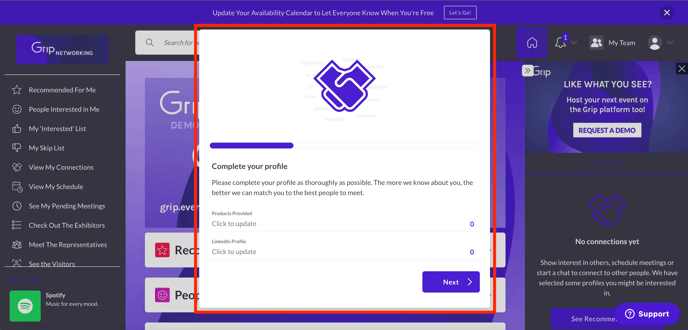 Updating your profile
1. Update your profile
Click on 'Edit Profile' at the top right of the home screen and make sure your profile is up to date:
Upload a picture.
Enter your personal information.
Add/update your contact details.
Having a complete profile will allow you to make more meaningful connections.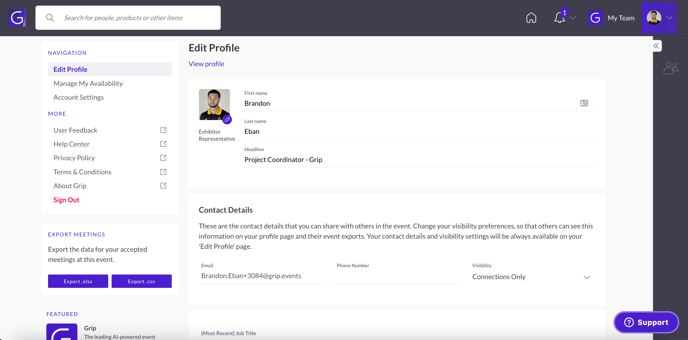 Here is an article on how to edit your profile in more detail.
Updating your calendar
1. Update your availability calendar
On the left-hand tab in your profile there is the option to 'Manage My Availability'.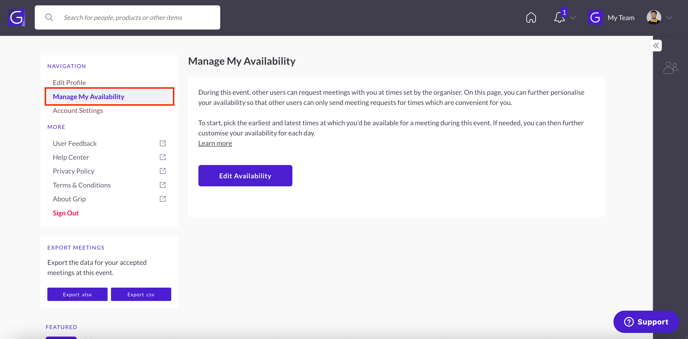 In this calendar, you can block out time slots where you are unavailable to ensure you do not get double-booked. You can also uncheck the tickbox which will make you unavailable for the whole day.
Other users will only be able to request meetings with you during your 'Available' times.

Networking and meetings
1. Start networking and request meetings
Click on 'Home' and under the 'Network' section, you will find your networking features:
Recommended for You: Review and take action on the recommendations we have made you. Here are the actions you can take on people:
Skip: you are not interested in this person (note that users will not be able to see whether you have skipped them).
Show Interest: you are interested and would like to spark a conversation.
Request a meeting: you want to request a meeting with that person. Article on how to request meetings is linked here.
Left sidebar:
Interested In You: See the people who have shown interest in you. You will also be able to initiate a chat with these users.
My Connections: Once you have a mutual interest with someone or a scheduled meeting, you will be able to open a chat with them.
My 'Interested' List: See a list of people who you have shown interest in. You will not be able to start an immediate chat with these users.
My 'Skip' List: See a list of people who you have skipped.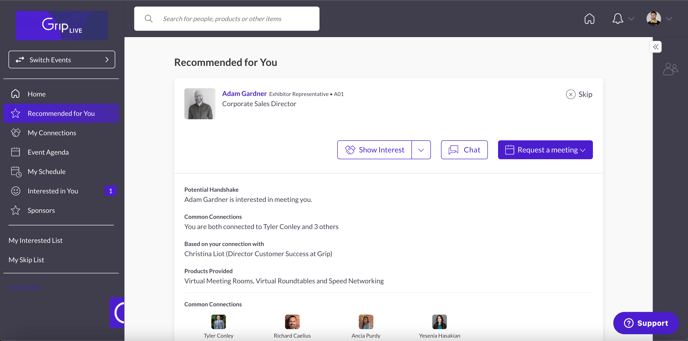 Event Agenda
1. Review the Event Agenda
Go to the 'Event Agenda' tab. In this section, you can discover our unmissable line-up and bookmark the sessions you are interested in attending.
You can choose to sync the sessions you are attending to your personal calendar too, by pressing 'Sync to my calendar'.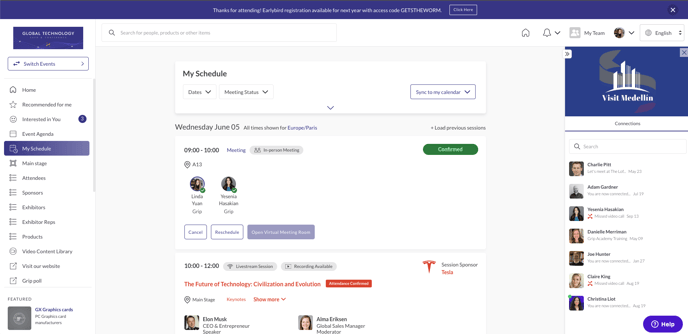 Personalised schedule
1. Review your personalised schedule
Go to 'My Schedule'. In this section, you will be able to keep track of the meetings you have requested and scheduled and the sessions you will be attending.
This is also where you will go to enter your virtual meeting rooms and watch the sessions you have added to your schedule.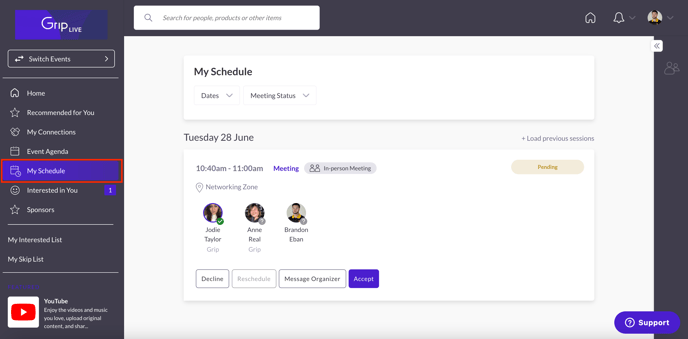 Attending virtual meetings
1. Attend your virtual meetings
There is no need to download any additional software. You will be able to access the virtual meeting room for any given scheduled meeting directly within the web platform via the 'My Schedule' tab.
Virtual meeting rooms are only available for scheduled meetings (if the meeting is pending or cancelled, the virtual meeting room will be unavailable).
A Virtual Meeting Room will be clickable 5 mins before the scheduled meeting.
Click on 'Open Virtual Meeting Room' to attend your meeting.
You can go in and out of the Virtual Meeting Room within the scheduled meeting time, however, once the meeting time has expired you won't be able to access the Virtual Meeting Room.
The meeting duration is not limited once you are in the virtual meeting room.
Inside the virtual meeting room, you'll be able to:
Review the profile of the person you are meeting.
Send a message to the person you are meeting.
Share your screen.