Grip has the ability to take your floor plan and make it come to life by adding functionality and making it more interactive for your attendees. This article will cover everything you need to know about the Interactive Floor Plan and our Floor Plan Partner, ExpoFP.
What is an Interactive Floor Plan?
An Interactive Floor Plan takes a simple floor plan and adds functionality to it making the floor plan feel more immersive, and engaging for attendees. Grip partners with ExpoFP to create Interactive Floor Plans that can be fully integrated within Grip to include features as such:
Multi-level Way-finding - Find where an Exhibitor or Room is located & get directions to that location from where you are currently standing on multiple levels.
Indoor Positioning (paid add-on)- Location intelligence and indoor positioning (blue dot) using multiple methods such as GPS and BLE beacons.
Outdoor Positioning - Location intelligence and outdoor positioning (blue dot) using multiple methods such as GPS and BLE beacons.
Exhibitor Profiles - Exhibitor profiles (logo/ name / description) when you tap on a booth as well as a subset of exhibitor categories which will be available in ExpoFP as filters.
Sponsored Exhibitors - Increase visibility for premium exhibitors with logos on the floor plan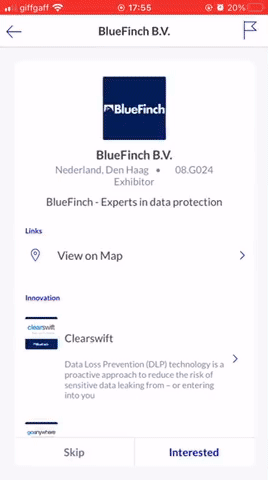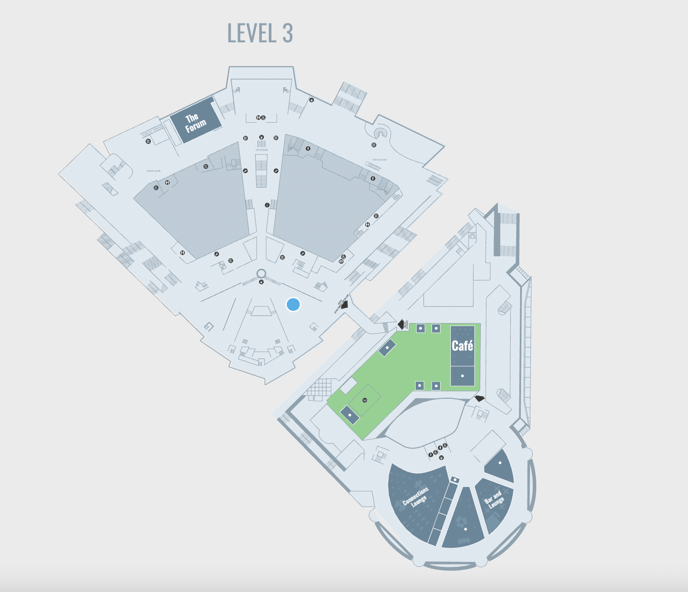 Additional Features include:
Offline Mode
Built in search engine to simply finding Exhibitors
Can be embedded into your website
Can be live for up to 6 weeks prior, during and post event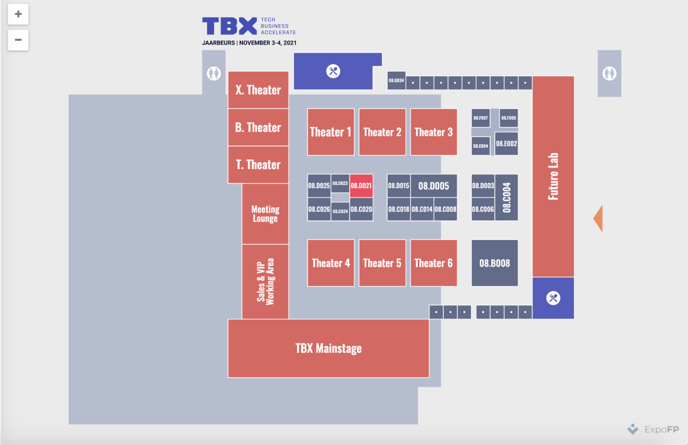 Why ExpoFP?
We have partnered with ExpoFP because of the powerful features that they bring to the table. ExpoFP is a floor plan solution that was developed for the trade show and expo market. It's a vertical in that it can be used by an organizer from the ground up, to plan a floor, create booths and sell the space on a floor plan through a self-service or managed sale. The final output is a completely up to date floor plan which is the single point of truth for exhibitor booths.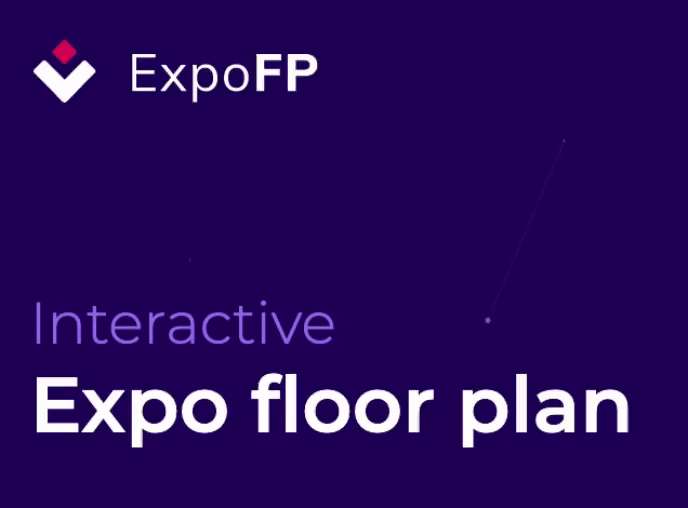 Requirements & Timeline For an Interactive Floor Plan
To request a floor plan build you'll need to confirm which package you would like to use and what add-ons you might want to include with your Grip Account Manager and Project Manager. The items we require to begin creating the floor plan are below:
Events with more than 250 booths: floor plan file format should be AutoCAD
Events with less than 250 booths: we can accept PDF / PNG / DXF / SVG file formats
DXF file should have booths as polylines or polygons
Total number of booths on the floor plan
Exhibitor logos on booths in SVG format
Exhibitor logos on map and profile in PNG or SVG format
Total number of exhibitor logos on the map
Booth labels / ID on one line (no multi-line)
Booth label stating within the polygon to which they are attached to
Once Grip has received all of the materials from the organizer, your Project Manager will submit the information to ExpoFP which then ExpoFP creates the Interactive Floor Map. Once the floor plan is complete, ExpoFP will send this file back to Grip where the Project Manager will have the Grip Integrations team create the link between Exhibitor profiles and Exhibitor booths on the floor plan.
This process will take ~12 business days (over 2 working weeks), but if you are flexible with your project timeline add extra time to account for delays.
Process for all floorplans is as follows:
Floor plan ready and created by ExpoFP within 5 business days of reception of all required materials
Booths linked between Grip ↔ ExpoFP (Grip Profile to Floor Map) within 5 business days by the Grip Integrations team. This process happens once ExpoFP has created the Interactive Floor Plan and sent it to Grip. Once the integration has been set up by the Grip integration team booth changes on the Grip dashboard will be reflected on the floor plan.
Wayfinder added to the floorplan by ExpoFP within 2 business days from the day Grip ↔ ExpoFP integration has been set up.
Requesting a Change to an Interactive Floor Plan
Once the Floor Plan has been created by the ExpoFP team, organizers will be able to instruct 2 major updates and 2 minor updates to the floor plan (or alternatively organizers can choose an ExpoFP training with the Client Success Manager and can handle minor updates themselves). The Project Manager and/or Client Success Manager will be responsible for tracking this and liaise with ExpoFP for these changes.
We will try to flag it to the organizer if we see this going over the change limit so the organizer can make a decision on how to proceed. Any changes over/past this limit will be charged for.
Major changes are considered to be
(implemented within 5 business days)
Floor plan layout changes ( >5% change to floor plan layout)
Adding routing to floor plan
Minor changes are considered to be:
(implemented within 24 hours)
Adding an extra booth
Renaming of public locations and POIs
Frequently Asked Questions
In what order do exhibitors show on the sidebar, lists, etc?
Alphabetical


How is distance, travel time and estimated arrival calculated?
The distance is calculated using units of measurement in the designer and the arrival time is calculated with the assumption that a person has a speed of 5 km/h.
Can I see what attendees click on the floor plan?
Yes. You can see information about attendees and their activity by using Google Analytics. Get in touch with Grip PM/CS to get this set up. Or you can simply add your GA / GTM code under Event Settings -> Google Analytics ID (which accepts both old style GA and GTM ids).
How can you embed the floor plan on your websites?
The simplest integration is to add a "Floor Plan" button to the home page of your website or a "Floor Plan" menu item redirecting users to the actual floor plan in Grip. Alternatively, you can log into the ExpoFP dashboard and go to 'more -> Integration Options' which gives you many other options to embed, link and incorporate the ExpoFP floorplan into your marketing website. Get in touch with Grip PM/CS to get the iframe code.
What does 'category' mean within the search bar?
This is a special Custom Profile Field you setup for your event. Categories you create and assign there will show up as a category on the map and in the exhibitor screen.