In this article, we will explain how to start a chat with someone.
1. In order to enable the chat option you will need to either:
Option 1: Have a scheduled meeting with that person
Having a confirmed meeting with someone will allow you to start chatting with them, to learn how to request a meeting click here
Option 2: Have mutual interest in each other using the "Interest" tool
Having a mutual interest using the interest tool will allow you to start chatting. Show interest in someone and wait for them to interest you back. Once they interest you back you will receive a notification and the option to chat with them will be available to you. Read 2/ to see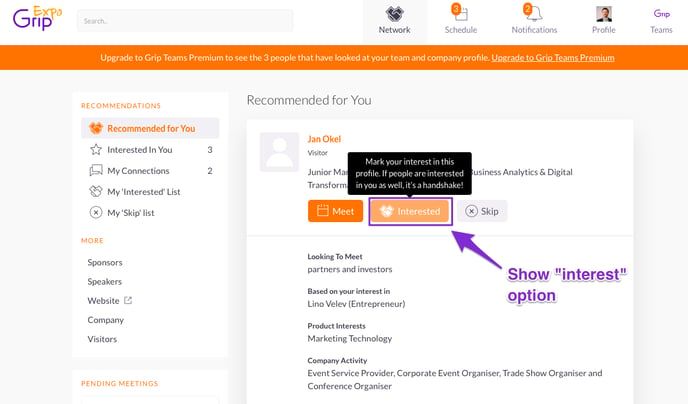 2. Once you have a scheduled meeting or a mutual interest with someone. All chat connections will be available in the section "My Connections"
a. Go to "My Connections".
b. Click on the chat icon to open a chat window.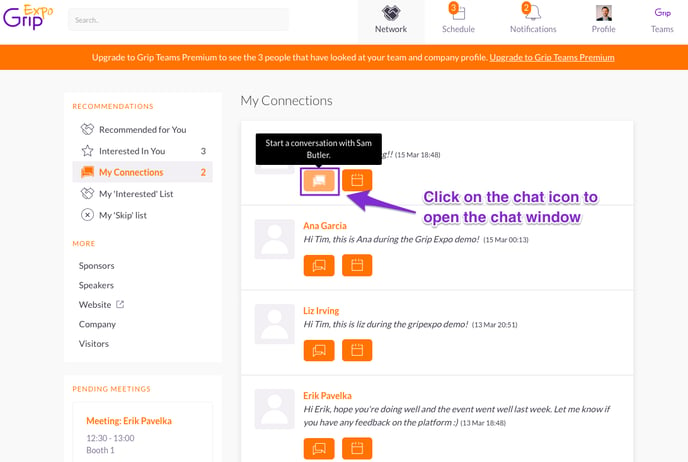 If you have any additional questions about regarding your profile preferences and how to optimise it please do not hesitate to email us at support@grip.events.