In this article, you'll discover how to efficiently manage your meeting availability on the platform.
Managing your meeting availability
Event organizers determine the meeting hours for your event. But with our user-friendly platform, you're in control of when you're available or unavailable for meetings. This ensures that you receive meeting requests only during your preferred times. Say goodbye to inconvenience and hello to an optimized event experience.
How do I manage my availability?
1. Head to the 'Edit Profile' section
You will find the availability management functionality on your profile settings page. This can be reached by clicking the 'Profile' button on the top right of the page.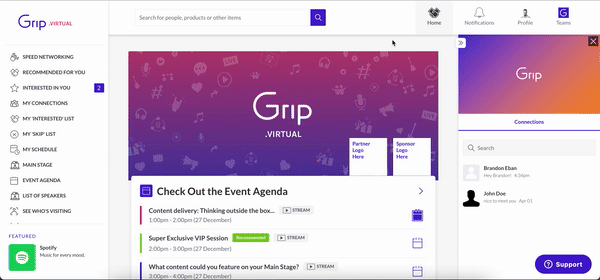 2. Click 'Edit Availability' to bring up the list of meeting days
Click on 'Edit Availability' to expand your view of the meeting days. In this expanded view you will see a list of all available days, and also the default availability time range for each day.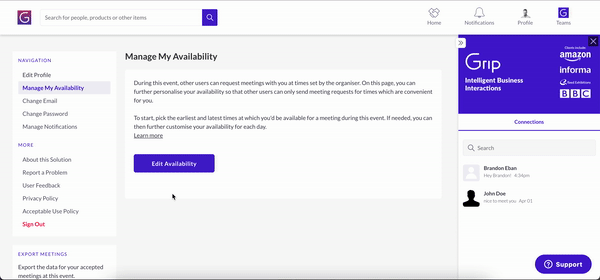 Please note: If you have an OOO (Out of Office) event on your calendar set to decline all new invitations, you may inadvertently decline meeting invites from the event you're attending. To avoid this, regularly review your meeting requests leading up to and during the event.
3. Customize Your Availability
Depending on your needs, you can:
Adjust the number of days you're available, keeping the default time range using 'Range of Daily Availability.'

For example, you can ensure you won't receive meeting requests at night if the event spans multiple time zones.

Specify different availability ranges for specific days using 'List of Event Days.'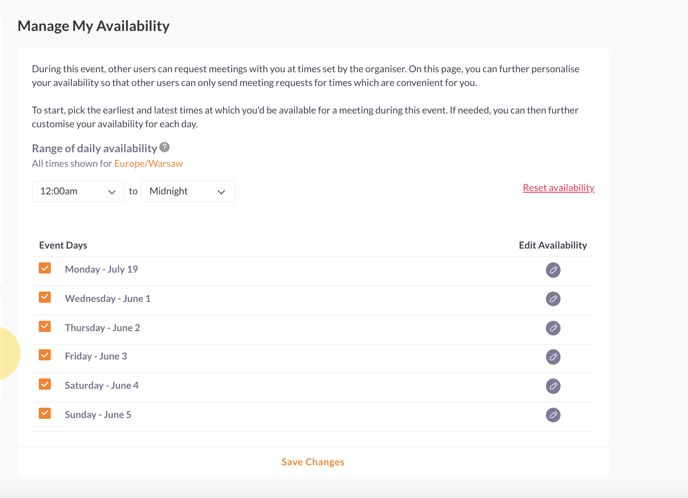 Range of daily availability allows you to easily set up a single range of times when you are available for meetings:
For instance, you could simply ensure that you won't receive meeting requests at night if the event spans multiple timezones;
List of Event Days. Here you can see all the days for which meeting locations have been opened. The list allows you for further customisation of daily availability range:
You can easily make the entire day unavailable by unselecting the checkbox: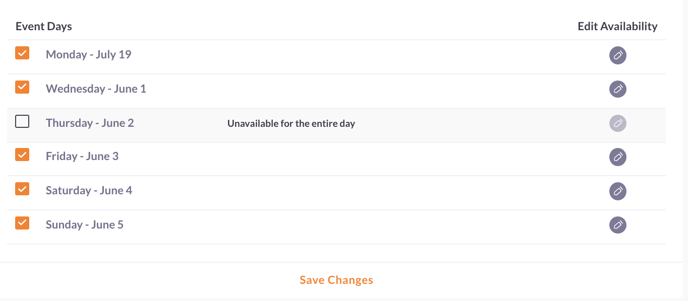 To add time ranges when you're not available within the day, click the 'Edit' icon within the top right of the row.
Reset Your Settings
If necessary, you can easily reset all settings by clicking the red 'Reset Availability' button.

Review Your Availability
If you've traveled to a new time zone, you may be prompted to review or reset your availability settings to ensure they align with the actual times you'll be available during the event.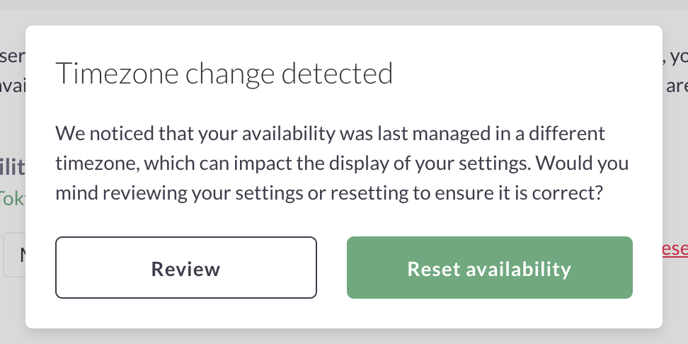 The display of the time ranges can differ from what you initially set in another timezone. We recommend reviewing your settings to make sure they reflect the actual times you will be present on the event.
Example:
In the new time zone, your range of daily availability may be displayed as unavailable time ranges across two days to accurately reflect the time range you previously set.