In this article, you will learn about managing notifications on the web networking platform. We will discover more about the following:
What are desktop notifications?
Desktop notification support is a new feature implemented in our web app. We've implemented it to make sure you stay up to date with all the happenings at your virtual event.
Desktop notifications are displayed in the top right corner for 5-10 seconds and can be accessed in the notifications centre.
Once enabled on one Grip event desktop notifications will automatically be enabled on all events from that browser.
Desktop notifications are currently supported on Chrome, Firefox and Edge.
It makes it easier to spot and act upon important events within the platform, such as meeting requests, new messages, and upcoming sessions. You can find a full list of triggers below.
When will I receive desktop notifications?
Desktop notification are sent when the following events take place:
New meeting request received
Meeting rescheduled
Meeting request is accepted
Meeting request is declined
A meeting attendee is waiting in the virtual meeting room
New connection made
Chat message received
How do I allow desktop notifications?
Initial notifications prompt
In order to receive notifications, users need to give our platform permission to send them through their browser. There are two parts to this process.
1. Allowing branded notification prompt
Users need to press "Allow" after seeing this first prompt. This is the prompt enabled by our notifications provider.
This first notification prompt is triggered by the following actions;
User first swipes interested on a profile
User first sends a meeting request
User first adds a session to their schedule
If a user chooses not to allow notifications after one of these triggers, then the notification prompt will not be displayed for 3 days. After 3 days, one of these actions will trigger the prompt again.
2. Allowing browser notifications prompt
Once the user has clicked 'Allow' on the branded notification prompted, then the browser's permission based notification will be displayed. Granting permission to 'show notifications' on this modal will enable the user to see desktop notifications.
If a user blocked notifications on one of the prompt and wants to change their decision, they can enable notifications through their browser settings. Please refer to the following guides:
Edge (Please make sure that for Edge on Mac you've enabled Banners alert styles.)
How do I disable desktop notifications?
Once enabled, users can disable and enable notifications again through the 'Manage Notifications' modal, which can be accessed from left-hand sidebar in the 'Edit Profile' page.
Desktop Notifications Browser Support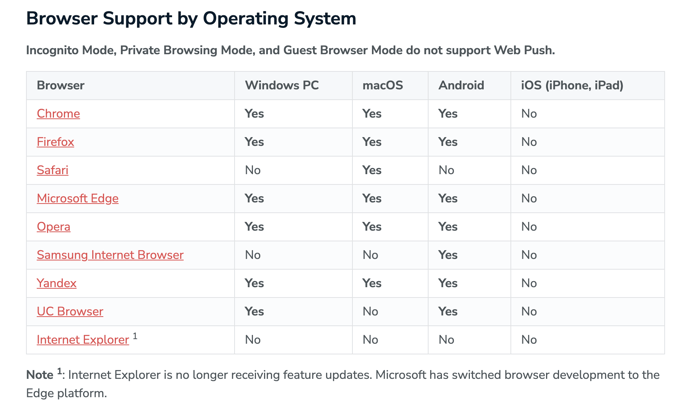 Managing Email Notifications
Within the Manage Notifications section in the 'Edit Profile' page you can disable email notifications for chat messages. Having turned off this toggle you will still continue to receive important notifications about meetings.
To stop all email notifications from Grip, you can press the 'Unsubscribe' button at the bottom of any email you have received from the Grip platform.
Managing incoming instant meeting requests
If 'Instant Meetings' have been enabled for your event then other users can send instant meeting requests. If you receive an instant meeting request while you have Grip open then a ringing sound will play out.
Within the Manage Notifications section in the 'Edit Profile' page you can disable these sounds by toggling them off.