Who can use this?
Event Attendees who added a session to their schedule.
Functionality is available only on sessions streamed or recorded on Youtube and Vimeo.
Watch the session and explore the entire web networking platform at the same time.
Functionality is available on sessions where a live stream or recording is shared through Youtube or Vimeo players.
Click the Pin Video button above the video player, and the player will appear above the left side-bar. Now you can leave the session page and watch the session anywhere on the platform you want.
See how it works
Steps to enable
1. Open session page by clicking on the session title in event agenda or schedule page.
2. You will see Pin Video button above the player if the session is streamed using Youtube or Vimeo.

3. Click the button and the player will disappear from the session page and appear in the left side-bar, above the list of your connections. You can click Unpin Video button to bring back regular player on the session page.

4. With video player in your side-bar, you can now go to any page in the platform and the video will keep playing.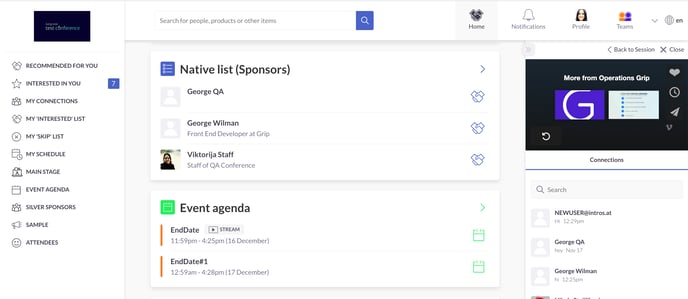 5. If you quickly want to go back to the session page, click on the back to session button above the player. The regular size player will become available again. Click close to remove the player from the side-bar.