In this article, we will explain what the 'My Connections' page is and how to use it. The my connections page gives you an overview of all the connections you have made either through a scheduled meeting or a mutual interest with someone within the same event.
Connections you've made in previous events with the same organiser will also be listed here (if the person you're connected with is also part of the new event.) All connections listed on this page are available to chat with directly and are available for meeting requests.
1. Connections list - The 'Connections' list is sorted from the most recent message at the top, to the oldest at the bottom. For each new connection, you will receive a placeholder message saying 'You are now connected with <Name of connection>', and it will always be placed at the top of the list.
2. Start chatting - Click the 'chat' button on an individual's profile to start chatting.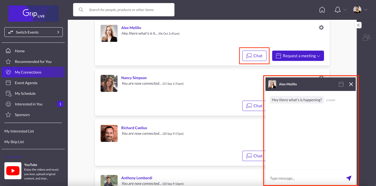 3. Request a meeting - Click 'Request a Meeting', select the time and date, write a personalised message, and click send. This will then populate the 'My Schedule' page.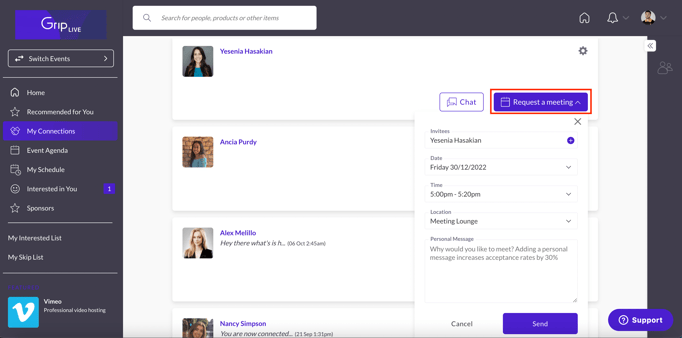 You can also click into an individual's profile to request a meeting, which will show up on the right-hand side of the page.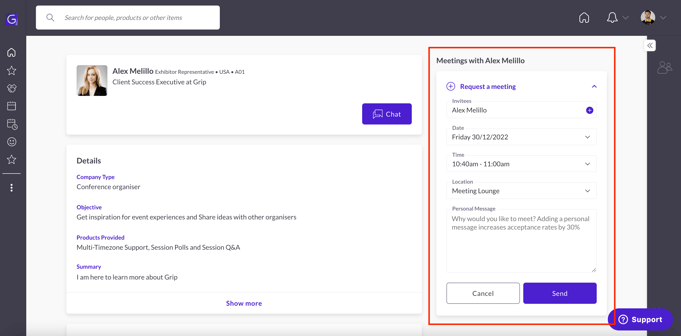 If you have any additional questions regarding your profile preferences and how to optimise them, please do not hesitate to email us at support@grip.events