In this article we will explain how to onboard onto the networking platform in a step-by-step process.
1. You should have received an email inviting you to login and start networking. If you haven't received this email, contact us at support@grip.events
2. Click on the button "Start Networking" in the email to access the networking platform.
3. Enter your Badge/Registration ID provided to you and then click on 'Claim Account'.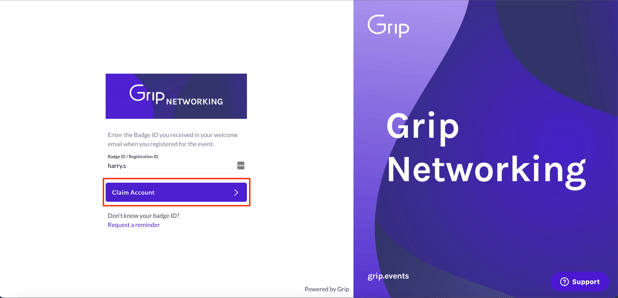 4. Choose a password, enter twice and click on 'Create Account'.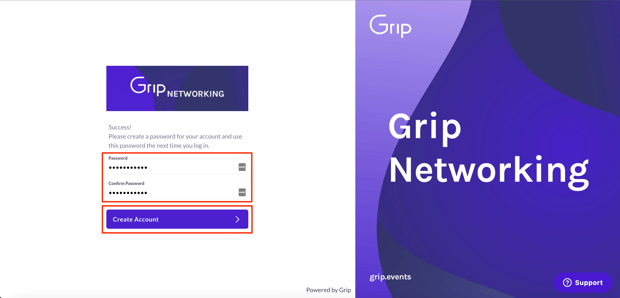 5a. Onboarding steps may vary a little depending on your participant type and you might have slightly different information to fill out. We will run through an example below. Once you have claimed your account you should land on a page like the below. You will see this screen and have the ability to fill out the fields for each event you attend.

5b. Here, you might see Custom Profile Fields enabled (and sometimes even pre-populated) to enhance your networking experience. Be sure to update this page to get the best networking recommendations.
5c. This is an example of when Custom Profile Fields are enabled (these vary depending on event setup, this is an example of a 'Products Provided' Custom Profile Field).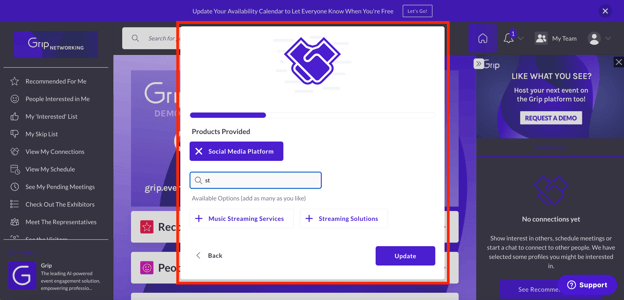 For this example, to select your products:
Click on a field.
Select the values that apply to you by clicking directly on them or search using the search bar for a more specific field.
When finished, press 'Update' on the pop up screen.
Please note, you can update and add your products or change the information in the custom fields (again, depending on event setup) later under your profile page. Please see our article on 'How to edit my profile' here.
6. Your contact details may be pre-populated here, if not, you can edit these via 'My Profile' after onboarding (the link to an article on 'how to edit my profile' is at the bottom of this article). Under 'Visibility' You can select who can see your contact details. 'Connections Only' is the default, however, you can change this to 'Everyone' or 'Private'. This can also be changed after onboarding. Click next.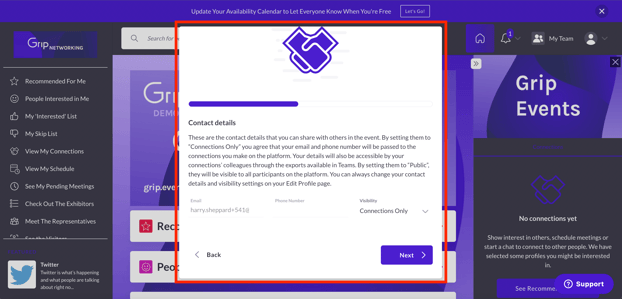 7. You have completed the onboarding steps. Click 'Start Networking' to proceed to the platform.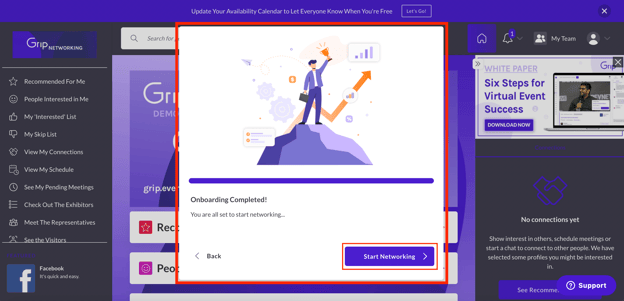 As a reminder, you can edit your profile/ preferences at anytime after onboarding has been completed. Please see our article on 'How to edit my profile' here. From your profile you can also see the Privacy Policy, User Agreement, and other documents.
Once the platform has launched, event participants will receive a welcome email. Note that the platform might launch earlier for some users (this will be a very small difference).