The Smart Scheduling (HB) platform's default set up is only for pre-scheduled meetings. It has been developed to generate meetings in advance for participants. However in some cases, you may also like to have free-flow meeting options available within the platform. Therefore, we give you two options, these are:
Smart Scheduling (HB) platform with no free-flow option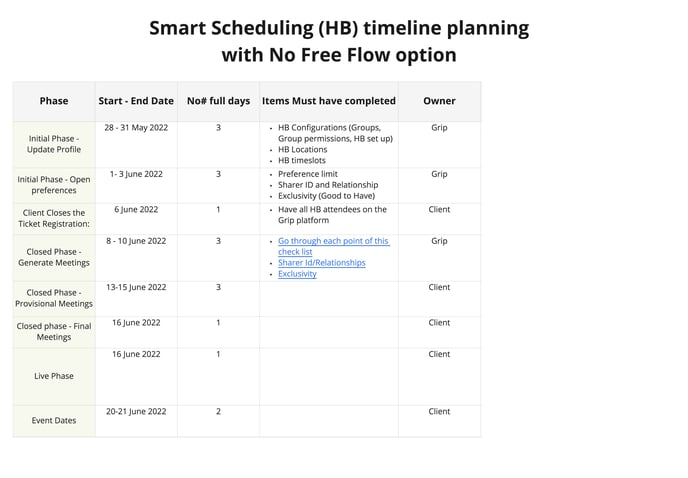 Smart Scheduling (HB) platform with free-flow option
You may want to have a MustMeet platform where participants are able to book free-flow meetings as well as having their pre-scheduled meetings. For example, you may have several Data Types within an event. Some of those Data Types will have pre-scheduled meetings and others may have free-flow meetings.
Please note that if you have a free-flow component, these meetings must take place after the MustMeet experience has finished.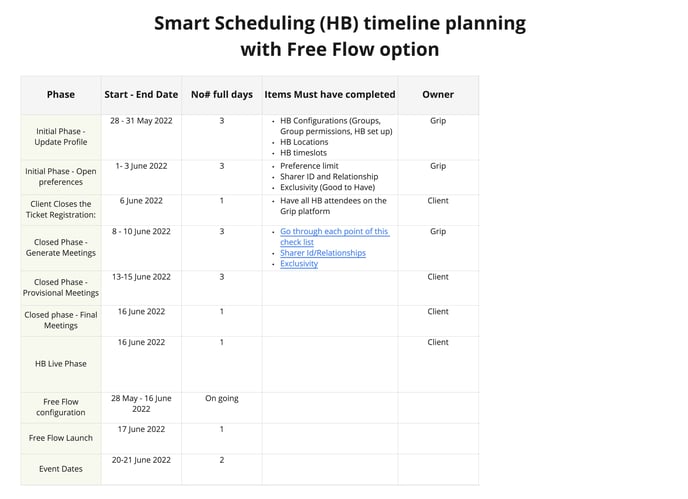 FAQs
Can the Organiser add more attendees after the meetings are generated?
Yes. But this would require some manual work from the organiser side. Here is what they need to do:
1. Add users to Grip via api, blender or manually
2. Send a list of attendees to the late users and ask them to tell the organiser who they would like to meet with
3. Reload the data to H2H
4. Match the late users manually with who they would like to meet Or with anyone available.
The client would like to keep the registrations and preferences open until 3 days before the event. Is this going to be feasible?
No. We must have a cut- off date in order to make sure that the data and platform is ready to generate the meetings. We need a cut- off date however if the client still wants to add more users they need to follow the steps above in Q1.
Why do we close the registration on 6th June and generate meetings 2 days later?
The MustMeet platform works with user swipes "Must meet, Meet and no thanks". You ideally would like to allow the late registrants who register on the 6th, to be able to activate their account and swipe in order to get any meetings or good quality meetings.
After the "Closed phase - Final Meetings", can the organiser still make changes to the meetings in H2H and push to Grip?
Yes. Even on the event date, the organiser is able to make changes to the meetings in H2H and push to Grip. Provided that the meeting time-slot is not in the past.